We cruised from Stockholm to Tallinn via Helsinki. The first leg of the journey from Stockholm to Helsinki was onboard MS Mariella, a ship in the Viking Line fleet. The second leg of the cruise from Helsinki to Tallinn, was on board MS Finlandia a ferry in the Eckerö fleet.
the first leg-Cruising from stockholm to helsinki
As you may have previously read in our Relaxing in Stockholm Travel Tale, we had left booking our trip from Stockholm to Helsinki and Tallinn until the last moment and as a consequence we were travelling sans cabin for the overnight cruise.  Not something that we would really recommend, unless you are a seasoned all night party animal; which to be fair in our younger days we may have managed, but in middle age it is a little more of a challenge.
We boarded the boat at the Viking Line terminal in central Stockholm. A quick tip for you: do not try to walk to the terminal from the T-Bana station nearby as Google Maps may suggest, get the bus or you may find yourself carrying your luggage down a very steep staircase!
The boarding process was hassle free and although the signs everywhere in the terminal said "no alcohol to be taken on board", we weren't the only ones who had a few vinos or beers in our back packs and no one seemed too troubled, in fact they didn't even look. Once aboard, we stowed our luggage and set off to explore the MS Mariella. It didn't take us long to find the bar on the top deck. Surprisingly the beers were a reasonable price, €5.50 for a pint. Of course we enjoyed a couple of those before the sounding of the horn and the chilly breeze, as we embarked on our journey, had us heading inside to find a comfy seat in, you guessed it, another bar.
We had formulated a strategy for surviving the 16 hours without sleep; firstly find a comfortable seat to spend the night, secondly drink enough alcohol that it would seem comfortable regardless. Now that may not be the most mature and responsible approach, but we are yet to claim to be either of those things.  Our strategy was being implemented perfectly in the Club Mar, until someone decided that it was "entertain the kids time" and from nowhere swarms of shrieking small humans appeared. We had to escape to the next bar; thankfully the ship comes equipped with more than one!
The cruise through the Stockholm archipelago and it's 30,000 islands is quite simply spectacular and as we were lucky to be sailing on a sunny day, we spent much of the time with our noses stuck to the window enjoying the scenery.
Cruising through the Stockholm Archipeligo
Dinner on board ms mariella
There are a number of options for dining on board MS Mariella, from a budget buffet to high end a la carte. After checking the menu options at each restaurant, we decided that we could afford a touch of luxury, and settled on the Ocean Grill.  The Ocean Grill offers a seasonal selection of barbeque style dishes prepared in an open kitchen, as well as buffet style canapes, salads and desserts. They also have a wide selection of beverages including, to our surprise, a little touch of home, a rather delightful Margaret River Shiraz.
So it was that we spent a couple of hours, grazing the buffet, enjoying a couple of perfectly prepared steaks and quaffing the Shiraz, before rounding it out with coffee and a couple of samplings of the dessert buffet, as the Baltic Sea continued to quietly slip by the window.
Suitably stuffed we set off for a turn about the upper deck before escaping the chilly evening air to settle in for the long night ahead.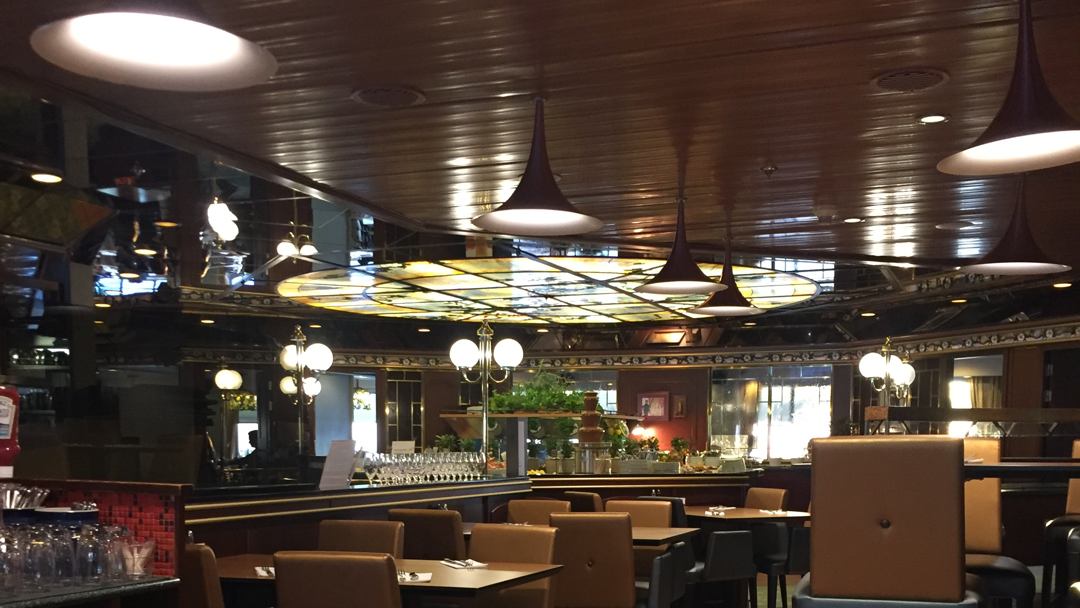 The Ocean Grill Restaurant
A long night cruise
There are 3 bars on board the MS Mariella with after dinner entertainment including live acoustic music, a cabaret style band and casino. It really is a party cruise, as we had heard in Stockholm.
We had parked ourselves in what we thought was a good position to spend the night, a couple of nice comfy couches, near a window, not too far from the bar and with a nice view of the dance floor. Now neither of us were up for a boogey but the cabaret style band were certainly enticing some of the not so young onto the floor. We were well entertained by the antics on the dance floor and enjoyed watching the sun slowly sinking into the Baltic Sea, as we headed toward Finland.
Eventually it got dark, not really dark but dusk like and the sun did sink below the horizon for what seemed like minutes but may in fact have been an hour or so.  The cruise from Stockholm to Helsinki is interrupted for a short stop at Mariehamn, our first sighting of Finland. The short stopover is the perfect time to head to the upper deck for some spectacular sunset photos, although be sure to rug up, it is pretty cold, even at the height of summer.
Mariehamn
Just as we were settling in to get some sleep despite the music, on came the lights and memories of a misspent youth in nightclubs came flooding back. The bar was closing and we were being herded into the next venue, replete with 90s dance music, flashing light show and writhing young drunken bodies. Oh JOY, a true clubbing experience. Finally after what seemed an eternity we decided we could stand no more and moved onto the concourse, where we found a couple of very comfortable looking but uncomfortable feeling chairs, strapped our back packs to the base and sunk into a fitful sleep.
A Buffet Breakfast to forget
We were awoken by other keen cruisers and their children lining up for breakfast; neither of us was in any fit state to be facing a gorgeous sunny morning and after quickly donning our sunglasses we headed off to find a space to brush our teeth and investigate options for breakfast.
As for dinner, there are a number of options for breakfast aboard the MS Mariella.
There was not a lot of point in spending our money on a restaurant or cafe style breakfast as we were really only in need of coffee and some sustenance to soak up the after effects of our all night party.  So it was that we ventured into the Buffet. Big mistake! It was full of families, with very loud children, lines of well slept adults and us, the low tolerance, unkempt and cabinless. The coffee was average, the food as always in large buffets barely edible or even identifiable.
In hindsight we should have saved our money and enjoyed a nice quiet cafe in Helsinki.
Arriving in helsinki
After our breakfast debacle, we slid onto a couch and moaned about the fact that we had been awake for the best part of 24 hours, which we are both too old and too grumpy to put up with.
We disembarked, located an ATM and struggled onto the tram heading into the city.  Our plan was to drop our bags at the Eckero Ferry terminal and set off to explore the city for a few hours before the next stage of our cruise to Tallinn. However, as they say, the best laid plans…….We finally arrived at the ferry terminal, after missing our stop and being assisted by a lovely tram driver to find the right stop, (We gather it must happen quite a bit for him to come and check on which stop we needed) to find that there is no luggage storage. DAMN! Disappointed but in no fit state to lug a couple of 20kg suit cases and our back packs around the city for the day, we curled up in the very modern but sterile, concrete ferry terminal to wait the 4 hours for the boat to Tallinn.  That afore mentioned strategy for surviving the all night cruise from Stockholm, was starting to look and feel a little unenlightened.
We vowed we would return to Helsinki, in a manner befitting a couple of middle aged travellers, in future.
The second leg-cruising from helsinki to tallinn
Finally the time came to embark on the last leg of our cruise from Stockholm to Tallinn.  When booking this leg of the trip Eckero had a special deal available, meaning that for €20 more we could upgrade to the Lounge. Never being ones to pass up a good deal, we jumped at the chance and immediately wished that this had been available on the first leg of the trip. It is a short cruise of 2.5 hours and we were looking forward to arriving in a new and exciting destination.
We were ushered into the lounge, offered all manner of beverages, snacks and fabulous comfortable chairs.  It was a pity really that we did not feel like taking full advantage of the wine and cheese platters, but we did avail ourselves of a cup of tea or two, salad and a selection of little tarts.
The only drawback to cruising from Helsinki to Tallinn in the Lounge, is that there is no view.  We were quietly tucked away on deck 6, however we did not mind as we caught up on an hour or two of sleep and in no time at all had arrived at our destination, for a new adventure in Tallinn.
As always if you enjoyed this Travel Tale we would love you to leave a comment below or share it with your family and friends.
You can share it on Social Media using the buttons below.
Why not follow us on Facebook, Instagram or Twitter to see more photos from our travels.
If you would like more information about this or any of the destinations we have visited please contact us