Arriving in Istanbul-Ripped off by a Taxi Driver
We arrived in Istanbul on a cold, wintery, January day, not perhaps the usual time to take a trip to Turkey but worth it to avoid the hordes of tourist that flood here in summer. Getting to the city from the airport is easy and after a quick transit through border control we were on the bus on our way into the city. The bus delivered us close to Taksim Square, in the very heart of the European side of this incredible city that spans  the European and Asian continents. As we alighted from the bus we were set upon by aggressive taxi drivers all vying for our fare, we had been warned about this before arriving and felt no qualms in telling them to wait until we were ready however it did take a number of times and a quite aggressive tone for them to back off while we found our bearings. Our apartment was little more than a kilometre away, in Beyoglu, but we were tired, unsure of the city and it was raining so we decided a taxi would be best. Unfortunately, we did not check the price of the fare before getting in the taxi and ended up paying much more than we should have. At least we were now aware that we must check fares and be on our game when using taxis in this city. We settled into our apartment and headed out into the street for some supplies, top of the list being a bottle of wine. We had arrived in Turkey after a 10 day trip in Iran, meaning no alcohol and we were ready for a wine or two. It was a delight to find an open air market around the first corner and plenty of little grocery stores including a bottle shop in the streets surrounding our apartment. Unfortunately due to our incident with the taxi driver we had a bit of a cash shortage and we kept on to the nearest grocery store, Carrefours where we could use a credit card.
Exploring the city
Does it get more exotic and exciting than the ancient Constantinople?
Our first full day in Istanbul saw us lazing around before we were ready to head out into the cold and wet morning, truthfully it was closer to lunchtime by the time we made it to Taksim Square, familiar as a scene of revolutions and protests but also thankfully the location of banks, metro stations and the funicular.
Down the funicular we went to get the tram along the waterfront to Sultanhamet to visit the Blue Mosque, Hagia Sophia and Topkapi Palace. Having reached the waterside we found the tram heading in the right direction quite easily. We were a little confused about stations, not having read the signs properly and were trying to get off a bit early when with little to no English a lovely elderly couple stopped us and then explained where to get off.
Our faith in the Turkish people was easily restored, what is it with taxi drivers giving tourists a negative impression of cities?
We were happily standing in the rain gaping at the beauty of both the Hagia Sophia and Blue Mosque before us when a young man decided to test his English language skills on us, next minute we were in his uncle's carpet shop, across the road from the family hotel. Two hours later, 2 cups of beautifully flavoured tea, a coffee, baklava and a damn good conversation, running from religion to tour sites of the world, we were trying to find a reason NOT to buy a beautiful Kazak carpet. It's quite a sales strategy that, get them in, give them baklava and then bam, sell them a carpet. We are still unsure how we got out of there without one under our arms.
We had been advised by many people who had visited Istanbul not to miss the Basilica Cistern which is located directly across from the Sultan Ahmed or Blue Mosque.  The Basilica Cistern was built during the rule of, Justinianus I, the Byzantium Emperor (527-565 AD).  It is an underground water storage system filled with marble columns, engraved with decorations typical of the time, including the Medusa heads.  It is a stunning reminder of the history of this incredible city that spans thousands of years and a site we are so glad not to have missed.
Following our visit to the Cistern we were off to the Blue Mosque,  there are few words to describe the beauty and intricacy of the decoration. We were able to visit this mosque together, unlike our experience in Iran at the Nasir Ol Molk or Pink Mosque and to observe the faithful at prayer, from a distance. It felt very welcoming, much like entering the great cathedrals of the world, Notre Dame the closest we could find to compare.
The Hagia Sophia was unfortunately closed on Mondays, so instead we wandered off to Topkapi Palace, the home of the Ottoman sultans. As we wandered the kitchens and grounds, reading about the history of the place, we were amazed and appalled at the opulence of their lifestyles. Nevertheless, they had created some wonderful rooms and buildings. The view from the battlements across the Bosphorus  and Golden Horn was, of course, magnificent, if a little breezy and bloody cold.
As dark closes in quite rapidly at this time of the year we headed home to warm up and to decide what the evening may hold. Beyoglu has many bars, cafes and restaurants so some time spent with the Like a Local Guide was required to decide on how to approach the evening.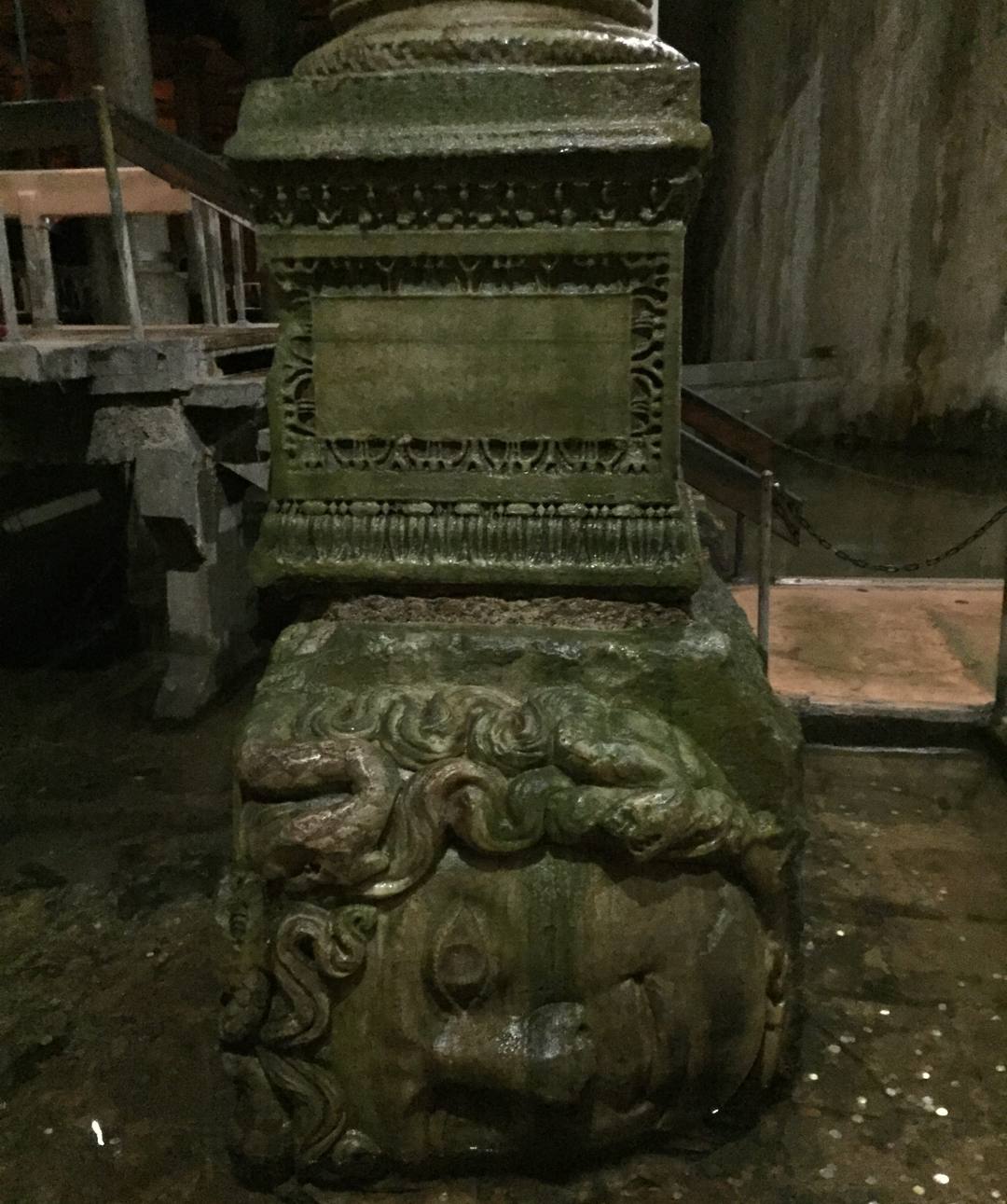 bar hopping in istanbul
On the taxi ride to our accomodation the day before, we had spotted an Irish pub and as we were both a bit keen for a beer we headed off to find it. It was all a little bit too easy to find and along the way the smell of kebab cooking got our mouths watering. A couple of plates of chicken kebab, rice and salad later, we were beer ready, however we got a bit distracted by the very bright lights, music and multiple bars just up the street from the James Joyce Irish Pub our planned destination.
It turns out the streets leading up the hill in Beyoglu are full of bars and restaurants all leading up to Istikal Caddesi, a very famous Istanbul shopping strip and night spot, with a lovely red vintage tram running down the middle. Street performers, art, markets, restaurants and beautiful old buildings, all lit up with a kaleidoscope of lights, kept us wandering for an hour or so, but finally it was time to choose a bar and hear some local music. We visited a few of the establishments, heard some good and not so good music, had a few Belgian beers and marvelled at the way the young and hip, muslim and we assume non muslim, were happily partying away on a Monday night. It was lovely to see a couple of young muslim girls with their head scarves, included in the clearly student lifestyle in the bars, dancing and partying away; such a contrast with the female oppression in Iran.
Finally we found our way to the James Joyce for a pint of Guinness. We settled in at the bar for a drink and met some very nice people, both Turkish and travellers.  Before we knew it, we were sampling a Turkish aniseed flavoured spirit, Raki and it was last drinks, 2am. Time for bed, or so we thought.
As we arrived home, the young guy who worked in the apartment's cafe and reception was keen for a chat and with Raki loosened tongues so were we.  Mohammed was a Syrian refugee and after a good chat about Syria and world events he invited us to meet his friends whom he shares accomodation, just around the corner. Why not, we thought?
Admittedly it was a little surprising to be sitting in a bar with half a dozen muslim guys and a couple of German girls, drinking beer, but when in Istanbul…..
The hours flew by, and before we knew it the owner of the bar was quite rightly wanting to go home, it was 4:45am!
It had been a pleasure to have the opportunity to discuss life, politics, religion, hopes and dreams with these young people and yet distressing too; so full of life and yet homeless, although thankfully, not hopeless.
What a night! We are certain that we would not have taken an opportunity like this at home, in fact we would probably have been so worried about what might happen to us that we would never have even considered it.
The day after the night before
Our second day in Istanbul promised to be a very slow day, given that we were only just in bed when the sun got up. A long sleep, some foraging for food, the best $0.50 AUD chicken kebab ever and planning our next adventure were all we could manage.
We choose to call it a rest day but more correctly is was a hangover day.
The Biggest Box of Baklava
Back to seeing Istanbul in the day time on our 3rd day…. Headed in the direction of Hagia Sophia and the Grand Bazaar we thought a coffee and baklava would be the best way to start the day. We were once again delayed by local guys wanting to sell us carpet, ceramics, jewellery and to give us tea in the hope that we would be persuaded to part with some cash, one guy even offered " I am happy to take your money to sell you stuff you don't need". Very honest. We were slow to learn, that in Istanbul, everyone wanting to help you is actually trying to sell you something and we got caught again, this time buying the world's biggest box of Baklava and Lokum (Turkish delight) for about twice the price we could have bought it closer to our accomodation rather than in touristy Sultanhamet. It was a cold and drizzly morning and we finally found Salep, a warm milk drink mixed with orchids and cinnamon which complimented the baklava beautifully and warmed us before our tour around Hagia Sophia.
The Hagia Sophia and Grand Bazaar
Hagia Sophia, a church, a mosque and now a museum is an awe inspiring monument and a credit to the ideals of a secular Turkey. Again we were reminded of the ingenuity and commitment of people a couple of thousand years ago; they could seriously build.
We had read that it is an awesome experience to hear the call to prayer at a point between the Blue Mosque and Hagia Sophia as the Muezzin call to each other and it was like a sing off. Whilst we understood none of it, obviously, it was quite an experience to hear, if you have the chance to sip Salep, nibble baklava and hear this, don't miss it.
The Grand Bazaar was interesting but after our visit to the bazaars in Shiraz and Isfahan it had some competition, the history is amazing and the building impressive but it's generally as the young guy said full of stuff you don't need and stuff you need less when your life is in a suitcase and backpack.
We had been touring for a few weeks before we got to  Istanbul and as we had an apartment we felt more like travellers going about daily life, with habits to match and a couple of beers before a trip to the kebab shop was becoming a nightly habit.
Feeling a little adventurous we headed down some of the less lit streets off Istikal Cd. and found a great little rooftop bar with a magnificent view of the city including the Galata Tower, all dressed in red lights, the multiple mosques dominated by the Blue Mosque in her pretty golden glow and the lights of craft moving up and down the Bosphorus.
 AirBnb issues
Things got a little tricky with our accomodation on our 3rd and 4th days in Istanbul as there appeared to be a gas problem, no heating and no hot water. We were initially  happy to report this to the staff at the apartments and wait for the problem to be fixed but when it was the same on following morning, the cranky bear (Cath) got up and about and contacted the management.  We spent the whole morning communicating with the manager trying to get the problem fixed and then on our 5th day, no hot water and no heating.  We had booked the apartment through AirBnB and having contacted their conflict resolution team, we moved to a new apartment nearby and got a refund.  This is the first time in 5 years of using AirBnB that we have had a problem with our accomodation and we found them responsive and helpful, unlike the management of the apartments.  Here is a tip for you, ensure that you communicate with the AirBnb owner via the app or website messaging, as the conflict team may be able to access the messages and you have a record of any issues and the management responses.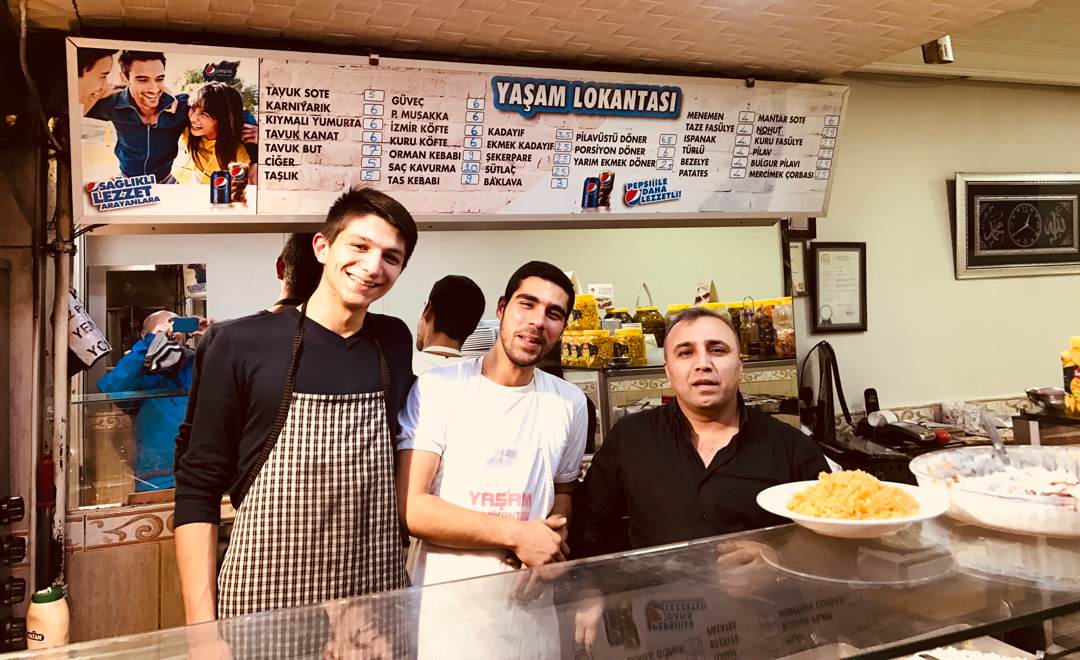 Another Irish Pub
The wintery weather sent us off to the pub, yet again, this time the scene of the crime was the U2 Irish pub, it appears that both Turkish people and tourists are quite keen on Guinness.  We had a very entertaining night of conversation and music with the Cretian barman, a German guy on business and a couple of Istanbulites, add a couple of Aussies and it sounds like a bad joke, doesn't it? After the pub our habit had become calling in to see the guys at Yasam Et Lokantasi on our way home, they got so used to us, they prepared our order as we walked in. It is a pretty basic eatery, perfect for after the pub and we got our meat and veg for the day.
Friday Night in Istanbul
Friday night in Istanbul and we decided we could do with a treat and found a nice little Italian restaurant and wine bar near Taksim Square, Faros Dine and Wine. The area around Taksim has some very flash hotels and the clientele in the restaurant possible reflected that, think  a bit less studentish, more professional after work drinks. Our last full day in Istanbul was a Saturday and we cruised up the Bosphorus to the Black Sea. You can read about our day trip to the Black Sea in our upcoming post. If you would like more information or to give us some feedback on this article contact us. If you found this article helpful or know someone who might please share using the social media buttons below.