Our year long travel adventure started with a three day layover in Singapore en route to the Maldives, with a whole lot of excitement and a modicum of trepidation on our way.
We flew Scoot airlines from Melbourne to Singapore, a budget subsidiary of Singapore airlines, we got a great deal on SCOOTBiz and would highly recommend the experience. It's always great to get on at the pointy end of the plane, even if it is a budget airline.
On arrival in Singapore we used the MRT, the train into the city, there is no need to use taxis in Singapore, the train is clean, efficient and cheap. We simply purchased a 3 day ticket at the airport and within 15 minutes we were at the station in the city and less than a 2 minute walk from our hotel. We had downloaded the MRT app before leaving home and it was super easy to find the station and our hotel.
We stayed at The Excelsior Towers a nice hotel located in the Coleman Road area of the city, a little bit fancy, but not super Singapore fancy. Singapore is renowned as one of the most expensive travel destinations in the world and you could break your budget and be on your way home before your trip even started. Thankfully we had avoided that temptation.
We arrived in Singapore in late December and it was warm and humid, perfect for strolling from the hotel to Chinatown and our first experience of the famous food Hawker Markets. We had chosen our hotel based on it's central location and proximity to the Hawker Markets. We did have an offline map on our phones to get to Chinatown but really your nose could lead you and ours pretty much did.
The Chinatown area was decorated for NYE and Chinese New Year, lots of colour, elaborate traditional red and gold symbols of prosperity, luck and wealth interspersed with paper-mache chickens, we guessed it was the year of the chook and made a mental note to find out what our Chinese symbols are, just in case we need some good luck.
The humid weather in Singapore slowed us down, a great lesson early in our trip, to slow down and enjoy our new and exciting surroundings. It gave us the opportunity to admire the architecture, modern skyscrapers rub shoulders with intricately decorated buddhist temples and colonial era buildings painted in pastels, shutters contrasted against crisp white walls and visible inside large overhead fans and tropical gardens.
It wasn't long before we had walked up a thirst and needed to sample the local ale, Tiger beer is a cheap and rather tasty lager, served ice cold at your table in the market. It matches perfectly with spicy Singaporean food in the Chinatown Hawker market. Hawker markets are open air dining areas, with food stalls located all around, the hardest decision is which stall and which dish to choose. Our advice, look where the local people are lining up, check the price and dive in, it will be great no matter what you get.
Our second day in Singapore consisted of walking and walking and walking which may have been a little crazy in the heat but the Marina Bay area is well worth the sweat.
We left the hotel heading in the direction of the Marina Bay Gardens and got slightly distracted by the Colonial area architecture, and had to visit Raffles, home of the Singapore sling. We had again decided that using the map on our phones wasn't required and just wandered toward the Marina Bay Sands, using logic that the gardens would be somewhere near there and they are but if you have the time and the inclination to wander and discover, Singapore will not disappoint.
One half of the PTW team loves a good short cut and this one found us in the comfort of an air conditioned shopping centre with a rooftop garden. If you are into shopping which we aren't really, again Singapore will not disappoint.
Finally we found our way out and on to the Marina Bay waterfront, we spent a couple of hours wandering around-literally around, we circumnavigated the whole thing! About a 6 km walk. It was totally worth the time and leg work though: beautiful colonial buildings like the Fullerton Waterfront, Mer-Lions, traditional river boats, amazing outdoor fans generating cools spots for the tourists, and photo opportunities everywhere.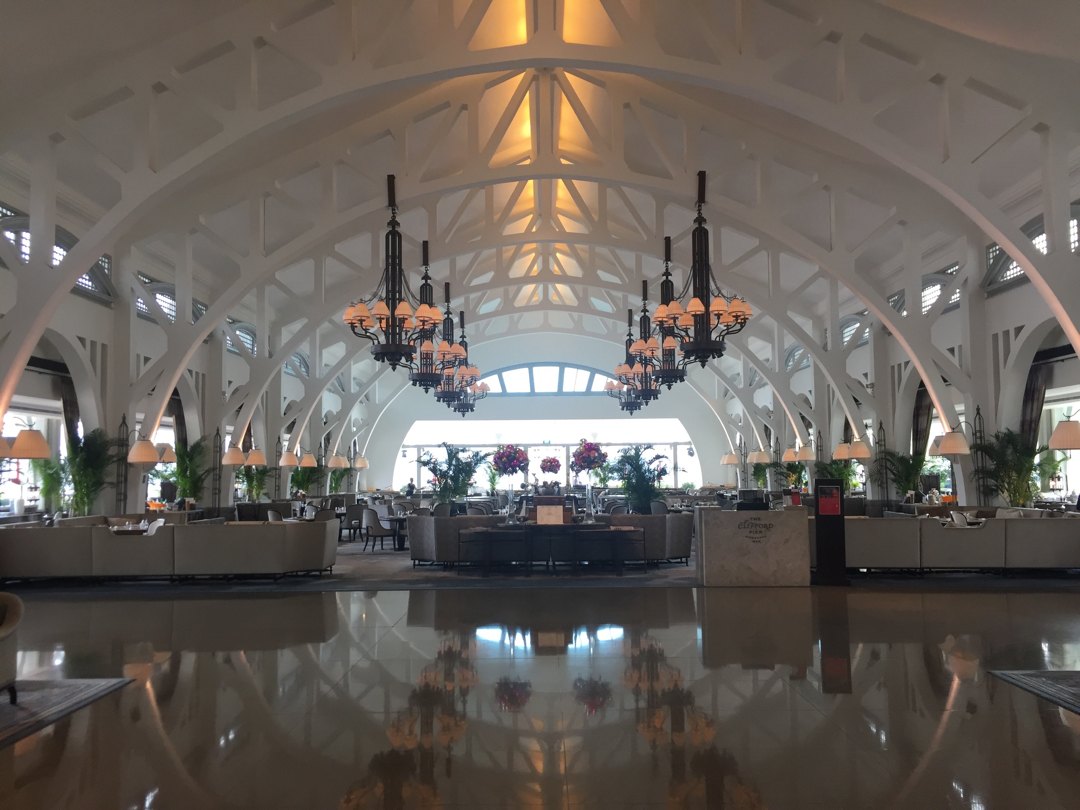 We were quite impressed too, by the fact that there weren't too many crowds. Little did we realise that it was because the locals all know how to navigate through endless shopping malls, without having to leave air conditioned shops, as they connect to each other and the MRT stations underground, which we also discovered later in the day when it was slightly cooler. Someone possibly should have mentioned that you can do that, or do they all laugh at the silly tourists sweating along on the streets? I bet they do (as would we given the opportunity!).
Eventually we entered the Shoppes (no I did not misspell that) in Marina Bay Sands, OMG daaarling!!! A little surprised that security did not immediately go "Ummm…. NO, sweaty Aussie tourists can not come in here!" We bravely entered the coolness, both environmental and fashionable, of the great beast that is the Sands. This is the designer capital of Singapore, all the famous designer names are here and it's worth a stroll just for the window shopping.
We quickly decided that to stay in here was a risk to the Visa card and headed out into the Marina Bay Gardens. A beautiful and tranquil area located right in the city. Do NOT miss this if you are in Singapore, the Super Trees, OMG the Super Trees! Go google it right now. Just incredible. In fact the whole gardens complex is a wonder, a day trip in itself.
All that walking had us feeling a little peckish and we were off on the MRT across town to Orchard Road for lunch. Orchard Road is shopping central of the city, while we were there in December the Christmas decorations were amazing, colour everywhere, just gorgeous.
It took awhile for us to locate our planned lunch destination, Shi Li Fang, as it is inside a shopping centre, on the 7th floor and the escalator goes up the OUTSIDE of the building. If you are a bit anxious about heights, as we are, don't look down but do it, how many of your friends will have done something like this? A great tale to tell and it's free!
And then we found it: Shi Li Fang – no tourists, just local workers taking their lunch break. The lunch special is called the Steamboat lunch set, take our advice and do it. It's a cheap lunch for $9.90 and you may not need dinner. We describe our chosen dishes more in our Food and Drink on the road blog.
The best we could manage after this amazing lunch was an afternoon of laying by or in the pool.
A tropical storm in the evening meant we stayed at the hotel for dinner , where we were pleasantly surprised to find a 2 for 1 wine deal. So a couple of wines,a couple of Singapore slings and some Asian style tapas was all we needed before we retired to recover from our marathon walking day.
On our third and last day in Singapore we were determined to see some of how the Singaporean people live and forgoing a day at the big tourist sites like Sentosa Island we set off to walk along the river to the Tiong Bahru district and market. You can save a lot of money doing this but also learn more about where you are visiting, one of the goals of travelling long term for us is to learn more about how people live. It also leaves you a reason to come back again if you don't see all the sites on the first visit.
The wet market at Tiong Bahru was fabulous, huge flower stalls, vegetables, fish, meat, all the stuff you need to live and the local people going about their lives to go with it.
Once we had wandered for a while, our tummies were growling and upstairs we went. How do you choose from a couple of hundred stalls that all look and smell amazing? You go where the biggest line is, so we did and met a lovely Indian lady just returned from Perth, WA on holiday. We had a great chat and found out the best dish- Roast Pork Char Sieu with roast pork rice. YUMMMO! Oh and a nice fresh lime juice to wash it down- $5.50 each thanks. Perfect! Growling bellies sated, off we wandered to explore Fort Canning Park.
Along the way we found beautiful coloured traditional houses, the Sri Thendayuthapani temple and a couple of chooks accompanied us on our wandering-how strange. The park was well worth the effort but the stairs, be warned there are lots of stairs. After making it to the top of the Fort and wandering back down through the coolness of the Spice Gardens, it was again time to lie by the pool, read a book and ponder the rest of the day.
It's raining, it's pouring. The 4 o'clock munchies run was somewhat curtailed by the weather, still hot but a deluge had hit so we popped into the Coleman Food Centre, located right next door to the hotel. We still have no idea what we ordered, but noodle soups appeared and again they were "bloody great" to use a bit of Aussie slang and just a touch spicy, enough of a touch to have us sweating and red faced. The rain storm cleared whilst we were eating and we spent a bit of time exploring the streets around the hotel, soaking up the feel of this intense cultural melting pot of a city.
Our last night in Singapore was spent at the rooftop bar of the Excelsior awaiting the sound and light show from the Marina Bay Sands but to our disappointment the show did not go on, we assume it was because they were preparing for the NYE show on the following night. We did however enjoy a spectacular sunset, 360 degree views of the city and more of the aforementioned Singapore slings.
Want more information about our stay in Singapore
See our Destination Guide