We travelled to Berlin by bus from Warsaw, Poland and it has to be said the Polski bus company were terrible.  From the moment we arrived at the bus station in Warsaw, the service was at best non existent, at worst rude.  We had booked online with Flixbus, unaware that the service is operated by Polski bus.  Be warned if you do not book direct with Polski bus you will be required to move seats at every stop for passengers who have booked direct with the company and the staff will treat you as second class passengers.
It was also a really uncomfortable bus without any of the amenities, like comfortable seats, provided on the Ecolines buses we had travelled on in Estonia, Latvia or Lithuania.  Needless to say we were not the only unimpressed non Polish passengers.
It is fair to say when we arrived in Berlin we were a couple of tired, cranky and bloody hungry koalas.  Another issue with the bus trip from Warsaw, the driver did not once indicate how long a stop would be, meaning no jumping off to grab a snack or indeed a meal, it seemed the stops were long enough for him to have a cigarette and that was it. The trip was 9 hours, not one toilet or snack stop in that time.
Now, maybe it was the tired hungrys or maybe it was unrealistic stereotyping, but we had expected to arrive in Berlin and be greeted with German efficiency on the U-Bahn. Well this was not so and we were a bit disappointed to find that the signage at the bus station did not in fact lead us to the metro system. What, no signage? In Germany? This was clearly a surprise to a few German passengers too and we wandered around for a good half an hour before someone located the metro station and we traipsed off behind them.  Once in the metro system, the aforementioned efficiency was obvious.
If you have been following along with our travels, you would know that we are dedicated users of AirBnb but it was a pretty expensive affair in Berlin and as we were only staying for the weekend we had booked an apartment hotel.
We loved the Mondrian Suites from the moment we walked into the courtyard garden area. The staff were friendly and helpful, the rooms large and all have a balcony with great views over the city.
A Walk around Berlin
Fortified with a large breakfast the next morning, we were up and away early to pack as many sights in as we could. As usual we were keen to walk after spending most of the previous day on a bus with no opportunity to exercise at all.
The first stop was 5 minutes from the apartment, Checkpoint Charlie.  We attempted to capture a couple of photos but it is a really busy area and it is almost impossible to get a photo without someone putting their selfie stick in your face. It is times like this when one could happily strangle the SS (Selfie Stickers). We resorted to taking photos at the cafe nearby, as a record of our visit. Little did we know that our early start the next morning would provide us with the opportunity to visit without another soul in the street.  There is a tip: get up early!
The checkpoint itself is a simple wooden guardbox, with a sign warning that you are leaving the American Sector. Supposedly representing the original and bedecked with explanatory leaflets in many languages, it is uninspiring; the history however keeps one interested.
It was a fascinating and pleasant 15 minute walk to our next stop, the
Brandenburg Gate
. Berlin is renowned as an avant-garde mecca and there are sculptures and installations dotted through out the streets.  It is worth a short stop to check out the Berlin Phone Booth Memorial Park and get a photo of the cute little vintage phone booths.
The Gate itself is impressive, as is the sense of history; so many scenes from WW2 played out there. The presence of Hitler was an almost tangible thing as we strolled past plaques pointing out places where the Third Reich had conducted various operations, or where the man himself had lived and worked. It left us feeling uneasy, but at the same time fortunate that this horror had been put down. The Germans are still testy about the subject, as we heard that a week earlier two tourists had been arrested for doing the Hitler salute. Good Oh!!
The Reichstag Building
It is a short stroll through the Gate to the Reichstag building, the home of the German Parliament and an impressive piece of architecture.  If you are heading to Berlin, be sure to walk along the park track to the Reichstag, as it is much nicer than walking with the busy traffic as google maps will try to make you do.
We had hoped to visit the dome, which reputedly has the best view of the city but we had not pre-booked and security was very high. It is understandable that security is high in European cities at this time but not really conducive to tourists with unplanned itineraries (us).
We joined the line at the visitors centre to get a ticket but not having done our research properly were unable to do so as we did not have our passports with us. Ian eventually managed to make a request on the website and we were hopeful of visiting the next day.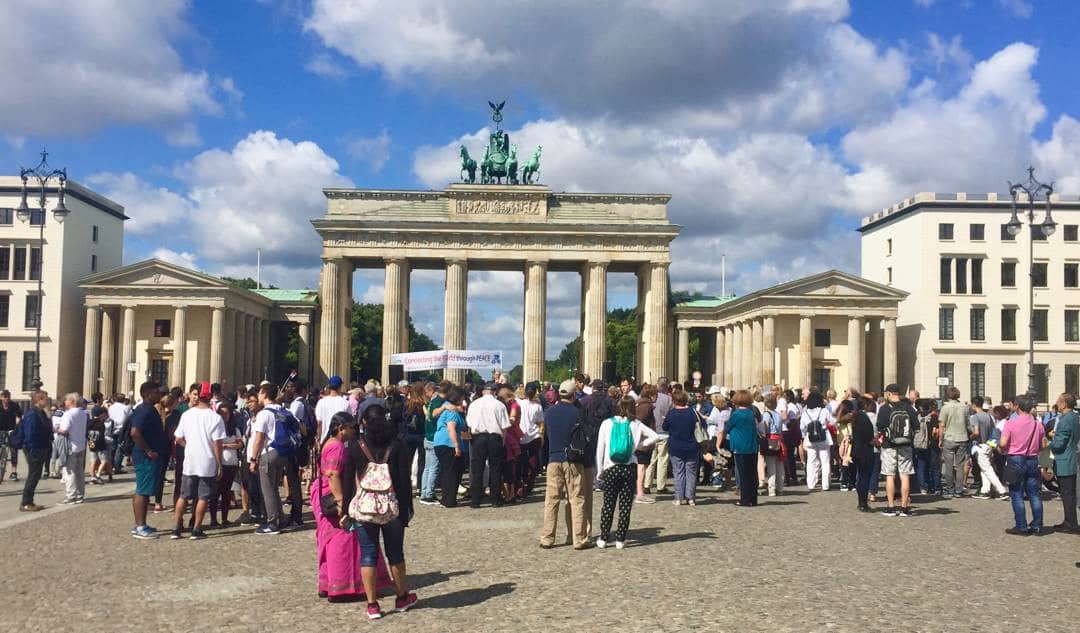 The Eastside Gallery
The next stop on our itinerary was The East Side Gallery, which was just too far to walk so we jumped on the U-Bahn and were there in no time at all.
There is a notable difference as you enter the former East Berlin, it seems edgier and street art adorns nearly every wall. In truth some of it is straight out graffiti and in our humble opinions is not that interesting but others are truly magnificent works of art.
The Eastside Gallery is a memorial to peace and to those who lost their lives trying to defect from the East German state.  It is painted on some of the existing sections of the Berlin Wall, beside the River Spree.  It is a wonderful, free, outdoor art gallery and a must not miss activity on any visit to Berlin.
Showing extraordinary patience, Ian waited for the SS to move on before capturing an image of as many of the artworks as possible, which he has since created a video and music with. You can view the video and read more about our visit to the Wall here.
We found ourselves in Görlitzer Park, whilst looking for the U-Bahn station and decided it was time to join the Berliners in enjoying the gorgeous sunny afternoon.  So we sat and watched the crowds sun baking, playing sports and picnicking while we digested some of the sights we had taken in so far.
Eventually we wended our way home, where we enjoyed a home cooked dinner and a  couple of wines on the balcony.
Sunday at the Market
We had eschewed the famous Berlin nightlife, so that we could be up early on the last day of our weekend in Berlin.  As you must have realised by now, one of the Possess the World crew is a bit of a market fiend and there was no way she was going to miss out on the coolest market in Berlin, Mauerpark.
The Mauerpark market has cult status with Berliner's and tourists alike, who come to meander amongst the hundreds of stalls, selling everything from original art work and designer pieces to second hand clothing.  It is part flea market, part art show with karaoke and performance in the afternoon, cool bars and cafes throughout the day and it is worth a visit just for the people watching.
We spent a good couple of hours wandering, making a few small purchases before it was time for a beer and sausage. Yes you read that right, the Berliner's are seriously civilised about their beer and what else do you need at 11:00 on a Sunday morning but a beer to get you through the next stage of your marketing?
Would you believe it, we had yet another chance to listen to an Aussie singing a few tunes in the beer garden.  It seems no matter where you go in the European summer, from Riga to Berlin there will be an Aussie with a guitar!
Strolling Museum Island
Having had our fill of markets and sausages we ambled off to complete our weekend in Berlin by visiting the Museumsinsel.
We have to admit we did not go into any of the 5 museums located on the island, mainly due to time restrictions but also because by this stage of our 12 month trip we were a bit museum fatigued.   But even if you, like us decide not to go into the museums do not miss the incredible architecture in this historic part of the city.  It is especially picturesque along the River Spree from the Berlin Cathedral.  Also we advise you to take the opportunity to recline on the grass in the Lustgarten aan de Museumsinsel.
Sunday evening at the Local
In every city we visit we like to find a "local", a little cafe or pub nearby our accomodation, somewhere we can talk to well, locals.  Often our means of finding the local is to wander past and just drop in but in a huge city like Berlin, we often refer to the "Like a Local Guide".
Unfortunately, our choice in Berlin was, it must be said average.  The Guide suggested that this pub, located a few blocks from our apartment was the perfect place to hang out with "real Berliner's", but neglected to mention that it was a mini golf centre with a beer garden/restaurant attached.  There were indeed a number of families playing golf and enjoying the warm summer evening but it was a pretty shabby affair and the food, I think it can be said was less than average.  Anyway you don't travel to Germany for the food, do  you?  At least the beer was cold.
There was nothing for it but a bit more walking to hopefully discover a more appropriate "local" which ended up being a marathon walk along the Landwehrkanal to the magnificent Tiergarten parkland.  The Tiergarten is much like Central Park in New York or Hyde Park in London, within seconds of entering the vast tree lined paths, you can forget you are in the city and lose yourself in the serenity of trees, lawns, lakes and some interesting, if somewhat aggressive sculpture.
We never did find that other local spot for a drink before dusk descended and it was time to head home to prepare for an early morning start on our next adventure, Utrecht.
If  you have found this post interesting please share on Social Media, using the buttons below or give the post a rating using the stars below.
Please contact us or leave a comment if you would like more information about our travels in Berlin.