Belgium is known as the Lowlands and it is flat, very flat but don't mistake that for boring, Martin McDonagh got it wrong, oh so wrong, when he described this part of the world, as the most boring… in Europe.
Our trip to Belgium from Ireland via Amsterdam (yes Amsterdam again!) was seamless, almost…. We left our bags at our hotel, the A-train Hotel, a cheap and quirky train themed hotel directly across from Centraal Station, while we booked our tickets.  We had a couple of hours to spare and as we now know Amsterdam so well it was with ease that we caught a tram up to the Rijksmuseum and enjoyed a leisurely stroll around the Museumplein and did a bit of people watching in the park. We were in plenty of time to collect our bags from the hotel and were on the train and heading for Maldegem, by 11:30am.
We had a quick change of trains at  Antwerp, we had 15 minutes to get to our next platform, which was perfect. Sadly when we attempted a similar procedure at Ghent-St Peters, we arrived on the platform just in time to watch the train pulling away from the station. Bugger! Oh well a quick look at the timetables showed the next train was leaving in half an hour and sure enough we caught our final train to Eeklo a short while later. All appeared to be going smoothly until a conductor, on checking our tickets advised that we were not entitled to this particular service and would need to pay €32 for the privilege! Double bugger! We coughed up, but will try to reclaim later.  The conductor was very friendly, sat with us for about 15 minutes and chatted about our travels, his plans to travel and life in Belgium.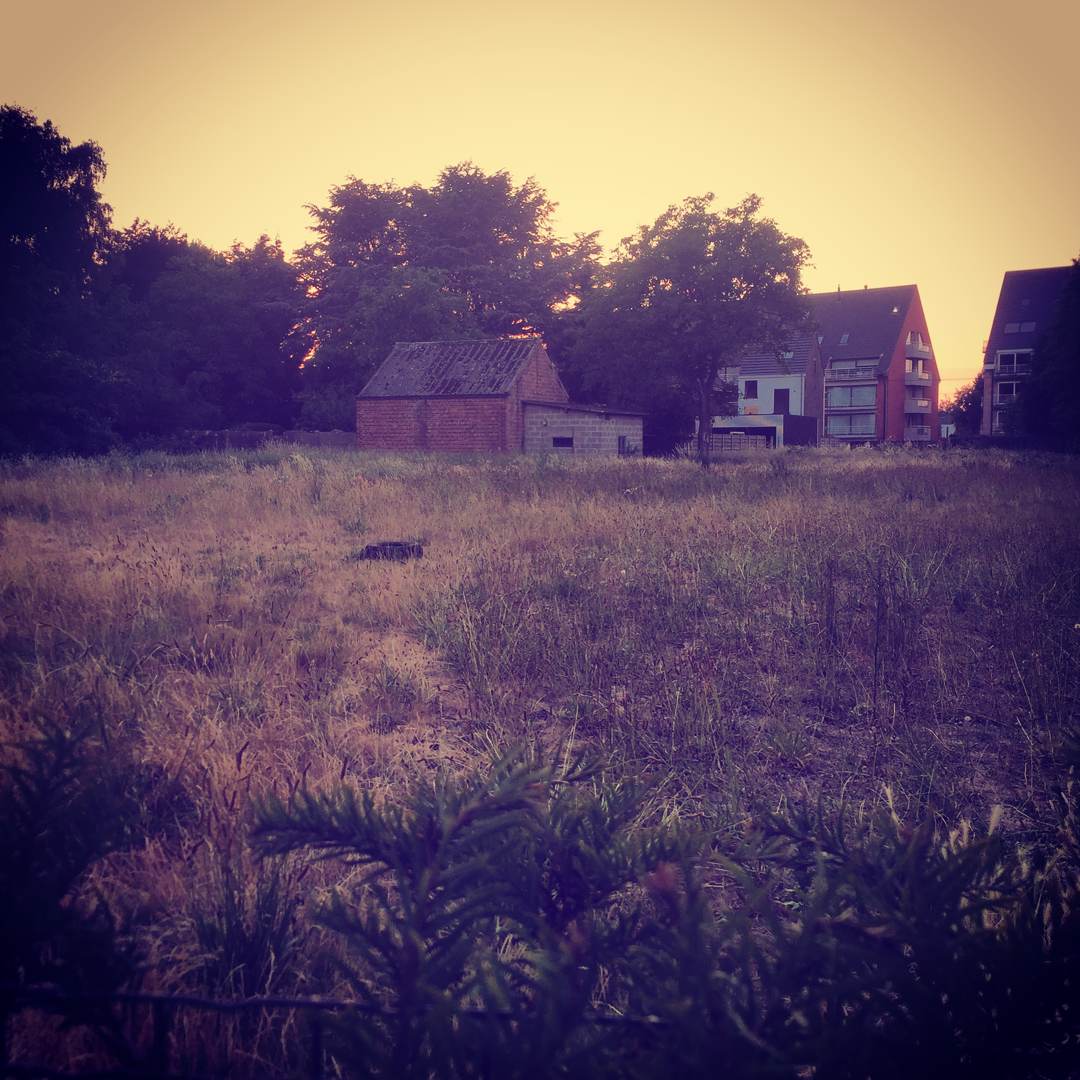 Sunset on the Patio in Maldegem
We were collected at the Eeklo station by our hostess Peggy, a bright and bubbly lady who took us on a tour of the village which is our Belgian home, Maldegem. One of the bonuses of using AirBnB when travelling is that occasionally you strike someone who is not only renting accomodation to you but befriending you, Peggy is certainly one of those. Should you be heading to this part of the world, check in at Peggy's. Maldegem, is a delightful small village located between Ghent and Bruges, perfect for sight seeing.  The architecture is a mix of  quaint heritage buildings, and modern homes constructed with a nod to their neighbour's history, well kept gardens, full of gorgeous floral displays and a very pretty park, which we discovered on our first walk through the village after dinner. It also has the prettiest bells we have heard in Europe, to be fair a few of them could do with a bit of tuning but Maldegem takes the cake, Cath kept waiting for the ballerina from her childhood music box to appear, every hour.
The locals are suffering heat shock sadly, as there hasn't been any rain for a few days and the temperature is hovering in the 30's. Just the right stuff for two little Aussie black ducks who have just spent a week in chilly Ireland. As always we enjoyed a quick trip to collect provisions, the corner store was conveniently located across the road from the apartment and we were pleasantly gruntled to find wine on the shelves and cheese in the fridge. Our day ended with the sun setting over a couple of glasses of chilled French Pinot Gris and dinner on the patio.
We spent the morning at Aldi, a little further afield buying a few more provisions, before returning to work on our blog. Cath announced it was time for a haircut and we trotted off in search of an appropriately qualified craftswoman. Surprisingly the first venue was able to cut Cath's hair on the spot and Ian had to admit it was the fastest trip to the hairdressers he had ever seen. It seemed only fitting that we should celebrate, so a small Aperol was arranged after lunch.
It was determined that the remainder of the day would be spent working…which includes planning next steps, accomodation and transport booking and catching up on emails, blogs, life in general.  Who knew that holidays could be such an exhausting process? (I'm sure all of you in offices right now are throwing things at us in your heads!)
Next morning, we were on the bus to Bruges by 10:30am, trundling through the Belgian countryside, such as it is. You don't go too far in Belgium without seeing another house and so the line between town and country is fairly arbitrary. The trip took less than half an hour before we were deposited at Bruges Station, a featureless brick facade with a large bus interchange out the front.
Crossing the road, we headed for the church spire we could see in the distance above the tree tops and soon emerged into the old town. What a delight! Cobbled streets lined with red brick buildings gradually gave way to larger and more impressive thoroughfares until we arrived at the beautiful Sint-Salvatorskathedraal, the oldest parts of which date from the 10th century, although the soaring spire and most of the rest apparently dates from the 1800's. Entry was pleasingly free (as you are now aware we have a no paying to enter churches policy) and the interior was well worth a look. The wooden carvings and fretwork are beautifully intricate and much restoration work is underway. The arched ceilings and curved stonework add an ethereal touch, whilst the huge organ at the rear of the church, with golden pipes and bedecked in all sorts of statuary is amazing. As a large statue of Jehovah, with one arm and hand held out stands at the front, Ian couldn't help but think he was probably singing "You Can't Stop the Music…"
We wandered around the back and on to the other notable church, the Church of Our Lady, which likewise has another impressive spire, before continuing along the Gruuthusestraat and arriving at our first canal bridge. Well, from there Bruges just turns up the volume. The canals, lined with numerous historic buildings, are picture perfect and tourist laden boats cruise up and down them whilst their passengers sit agog. Following along the canal edge, we crossed a bridge and encountered the entry to Burg Square, an impressive archway topped with gilt figures. The square itself is probably as good an example of a medieval square as we have ever seen. The Basiliek van het Heilig Bloed (Basilica of the Holy Blood), the Stadhuis (Town Hall), the Old Civil Registry and the Bishop's Palace are all awesome, but we have to say the Town Hall really blew us away with its many statues and intricate masonry. The basilica of the Holy Blood was impressive from the outside, if a little small compared to the rest of the square but the interior was a knockout and considering it was built in the 12th century, quite a marvel.
From Burg Square we strolled up Breidelstraat to see the towering Belfort, which is actually a campanile. One of the delightful things we have experienced in Belgium is the church bells. They all seem to play beautiful music from a number of bells, rather than a simple ding dong. After the Belfort, we wandered North through the cobbled streets, teeming with tourists, admiring the numerous examples of medieval architecture, until eventually we were able to find a quieter space as we ambled along Spinolarei, a canal which led us to Bleckersstraat and the famous Vlissinghe, reputedly the oldest continuously running cafe in Bruges, since 1515. And where Rubens traded his not so famous, at the time, works for a few of the local ales. The local beers were just perfect for a hot day, so we had two each before heading back through the town.
Cath had read about a deli called D's, Deldycke traiteurs, which specialised in catering but also provided tapas a la Belgian style. It turned out to be an amazing place. Meats, cheeses, wine, spirits, you name it, they had it! We were able to sit at a bench and sample some of their tapas which were extraordinary. The house wine was excellent as expected and feeling pleasantly sated we trundled back out to the bus station for our return trip.
The humidity had been high all day, with gathering storm clouds but the rain held off just until we alighted from the bus, following which we were splashed by some of the fattest, wettest raindrops seen in Belgium for weeks. It didn't take long to pass though and we arrived home somewhat cooler than we departed.
Ian had read an article or two about Ghent following our decision to visit Belgium and we were both keen to see some of its architecture. As luck would have it, our kind host Peggy was driving up there on Thursday and offered us a lift, which we accepted gratefully. The countryside sped by, all greens and yellows and browns. Trees are abundant, it seems, in Belgium and although the land is predominantly flat, it is not so noticeable as there are groves, windbreaks and mini forests everywhere, such that you rarely get a distance view of more than a few hundred metres. Added to this, the available land is almost entirely under cultivation, so various shades of green are omnipresent.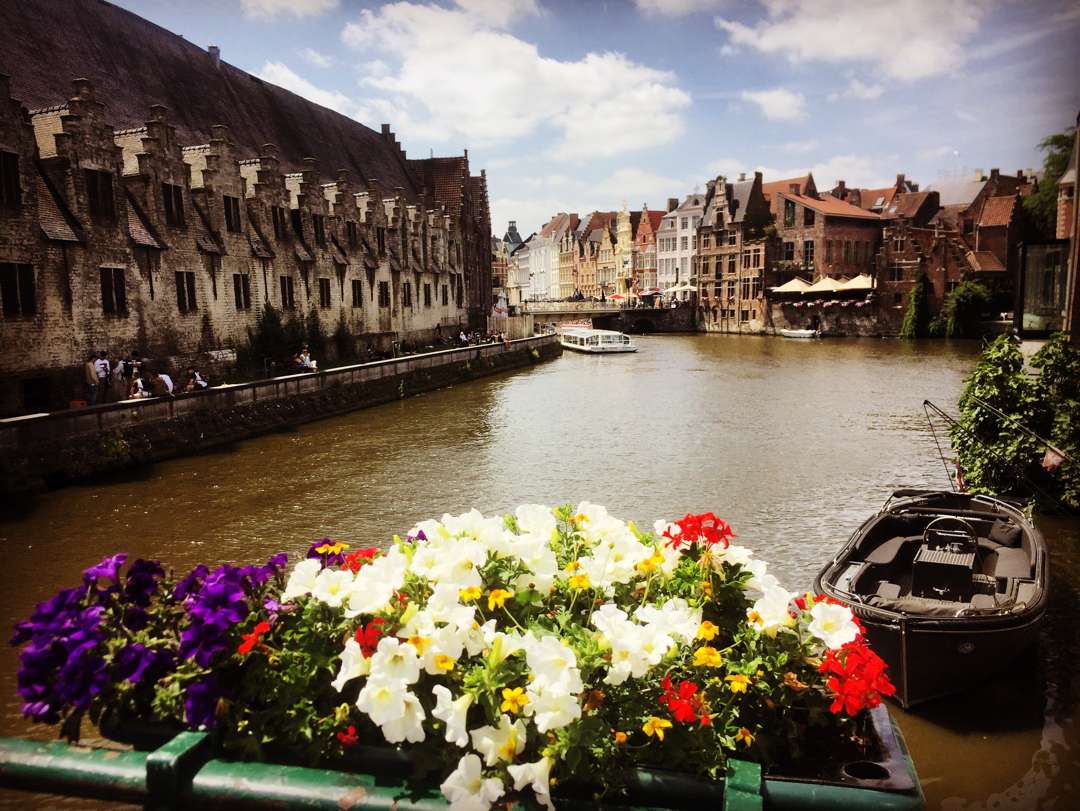 Gorgeous Ghent
We arrived in the city and were dropped off quite close to the centre, where there were some earthworks taking place, so we were quite unprepared for the vista that arose before our eyes as we walked up beside one of the numerous churches and rounded a corner to reveal probably the most beautiful medieval town we have encountered yet. To say it was Bruges on steroids is no exaggeration. The imposing Saint Bavo's Cathedral loomed up in front of us and we were delighted to find it open to the public free of charge, the Belgians must have known we were coming!  It is an incredible building, filled to the brim with dark elaborately carved woodwork inlaid and overlaid with sculptures and scrollwork, etched out of white marble, supported by maroon columns streaked through with a multitude of colours. The overall effect is one of rich solidity. And of course the incredibly high arched ceilings towering way above create an other worldly atmosphere. As if this isn't enough, there are numerous large fine paintings throughout, one in fact by none other than Rubens! So if you fancy seeing one of the Great Masters for free, here is your chance.
Walking through the church, we both remarked on how beautiful the harp music playing in the background was, only to be surprised to find it was actually being played live in one of the small chapels at the rear of the cathedral. Ian could have happily sat and listened for hours, but there was much more to see.
Exiting the cathedral, we crossed Sint-Baafsplein, a square surrounded by some stunning buildings, including the NTGent schouwburg and the Het Belfort van Gent. The Belfort is massive and with its gilt clock and spire, a credit to the builders of long ago. Unbelievably, after the Belfort we arrived at yet another cathedral, St Nicholas Church, which in any other city would have been the centrepiece, but which here was, dare we say put in the shade?
It does sound like we are bit church crazy, which those of you who know us will know is far from the truth, but the sheer enormity, beauty and artistry of these ancient buildings is undeniable.
As impressive as these buildings were, the continuing architectural excellence was eye watering. Arriving at Sint-Michielsbrug over the Leie river, we were confronted with undoubtedly the most beautiful collection of medieval buildings we have ever encountered. Along either side of the river are stacked various guild houses, hotels, restaurants and cafes housed in amazing medieval structures that it is quite impossible to select one over another for its charm. And on the terraces were hundreds of students gathered in groups picnicking with sandwiches and wine, looking for all the world as if everyone must be used to this. We had fortunately brought our own picnic lunch and sat amongst them happily munching whilst drinking in the view. A moment to stay with us forever. Really you must get on Google Images and look at this place for yourself; better yet book a ticket and go there!
The rest of Ghent continued in the same vein. Around every corner another amazing structure. Why they even have their very own 12th century castle, Gravensteen, looking for all the world as though the sheriff of Nottingham, or at least his Belgian counterpart, will come galloping out at any moment. We spent a good few hours in stunned admiration before realising it was time to find a bus and head back home.
The poor bus driver found our €20 a bit much and had to give us €14 in change – very small change. Oh well, as it turned out we were able to put it to good use at the Sportsmans Bar just around the corner from home, where we enjoyed a few glasses of the local amber fluid, before doodling off. A word of warning by the way, Duvel beer is almost 10% and gave us both quite a kick up the a**e!
Rain and mild hangovers interrupted our weekend plans and so we enjoyed some time letting our livers, heads and bodies recover from the rigours of travel.  It's hard not to feel guilty about rest days but they are a necessary evil when long term travelling.
Monday being our last day in Maldegem, Belgium, we spent enjoying a nice long walk around the town. The haphazard nature of housing design, together with the preponderance of single or double story houses on blocks with gardens, creates an almost Australian feel to the village and made us feel quite at home.
By the time we arrived back at home, Willy, the owner, together with his wife, of our AirBnB accommodation, was finishing up for the day and as we chatted his wife Peggy arrived. Somehow the subject of Belgian beers arose and as we admitted that we had not tasted a huge variety, they insisted on taking us to a local bar to sample a few. We tried four different kinds: Westmalle Trappist Triple, Mort Subite, Rodenbach and Omer. By the time we had finished, it was decided that we should accompany Willy and Peggy to their farm for the evening and what a pleasure it was.
If you are not aware of the Trappist beers heritage in Belgium it is very much worth researching; there are 11 monasteries across the world who brew this beer, 6 of which are in Belgium.
Having a chat with Max
As we have mentioned before, this part of Belgium is flat and bordered in trees and the farm was a lovely example. Rich green paddocks with fence lines marked by large stands of poplars, elms and oaks. Peggy grew up on the farm and she and Willy have been renovating it apparently for some time. As the new farmhouse has been built, so the old farmhouse is being slowly demolished. They are farming cattle and Willy was pleased to take us out for a visit. It was amazing to watch as Willy called in the cattle, particularly the bull, Max, who clearly couldn't be bothered and instead bellowed his annoyance while the cows all meandered down to see what was on offer. In the end Max had to come too, ostensibly to protect his "girls", but he let us know he was annoyed by more bellowing and pawing of the ground. Willy gave him a pat on the nose and thus acknowledged, Max led the herd back up the field.
We spent a delightful few hours, watching the sunset over the farm whilst enjoying a smorgasbord Peggy had thrown together from the fridge and the rarest of the Trappist beers, which can only be purchased at the monastery, Achel. It was a shame to call a halt to proceedings but we had to leave early the next morning, so it was home to bed we went.
Next stop Denmark.