Should you be lucky enough to have a winter's afternoon to while away in Prague, make sure you head to U Pinkasû.
We were lucky enough to have a whole afternoon to escape the cold and U Pinkasû provided one of the best and biggest eating experiences we have had. So if you are hungry and pretty good at eating this is the place for you. It is a traditional Czech Pub and restaurant, where they excel at the pouring of the best and the original Pilsner (or so they will tell you). Established in 1843, it is still serving up recipes that are time honoured, traditional Czech favourites. Some of the recipes are available on the website, which Cath will be trying out next winter.
Our selection from the menu does, on reflection appear a little meat heavy, but it was cold, we had beer and a pretty good appetite after our morning activities We are also admittedly carnivores.
So for starters we had the "Choice of Bohemian Specialities"; a magnificent plate of various types of…. you guessed it, pork, ham, pork, pickled cabbage, red onions, spicy sausages, pickled onions, duck, more porkish type meats, chillies and a terrine, the ingredients of which we remain unsure, but it was just so yummy. All this served up with a variety of breads and…. the ubiquitous half litre of Pilsner.
Did we mention that beer is served only in half litre steins, which consist of about a third froth? Thoroughly delicious and you get a bicep workout getting it to your mouth (Cath has to use 2 hands to lift it).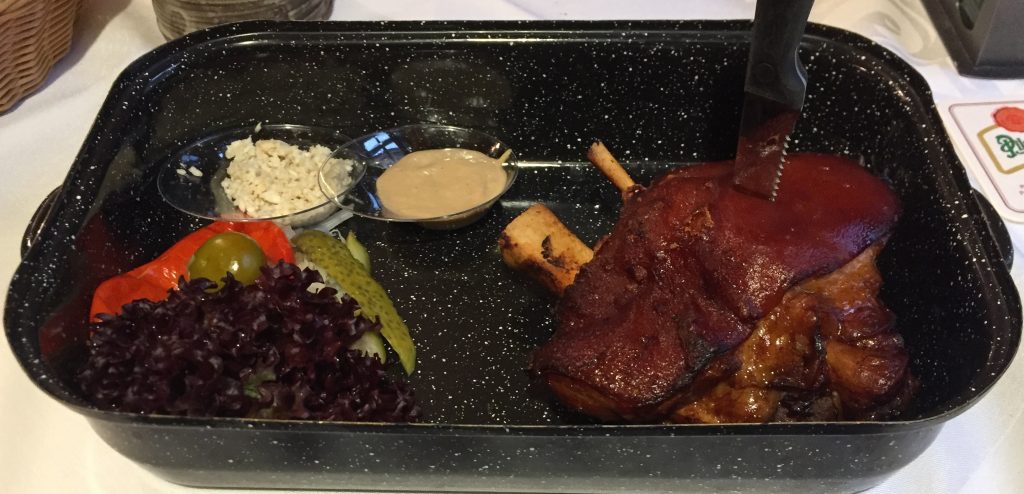 We followed our Bohemian starters with a couple of  very traditional heavyweights in the "Feeders" section of the menu.
Cath had pork knee, it must have been one huge pig to have had a knee that big, a slow roasted joint which eventually beat her into submission, served with mustard, horse radish, cabbage, chillies and pickles.
Ian tackled the Brewer's Meat Roll, a fabulous concoction of pork and other minced delicacies, wrapped in a filo pastry, together with a variety of pickled vegetables and spicy chillies and mustard.
Dare we say we were regaled by a magnificent repast? As this course was also accompanied by more steins of beer, we retired gracefully without dessert and caught the metro home, picking up a bottle of Shiraz for the evening, to leaven the pilsner. By the way, that meal and drinks, which would have cost well over $200 in Australia, cost us $52 AUD!