Discovering Oslo
We were looking forward to discovering another new Scandinavian city and country, when we left Göthenburg heading for Oslo, Norway.  Our research about the city had told us to expect parks, gardens, art and most interesting of all for us, Vikings and their incredible history. Ian may also have been hoping to sort out whether the Swedish Chef was actually Norwegian after all, as had been suggested by those cheeky Swedes.
As you will have read previously in our Traveller's Tale, we are always pretty impressed by the public transport systems in Europe.  And we have to say as fairly seasoned Traveller's, the Scandinavian countries really do take the cake.
It was an early start for us from the  Göthenburg  train station and as neither of us are naturally early birds, we were glad to find a coffee shop open with a lovely comfy couch. We were delighted to find yet again the train trip smooth and quiet, the cabin well insulated and the seats firm but comfortable and the finish excellent, even down to the birch armrests. It felt like being in an Ikea showroom, on the tracks.
The Swedish countryside swished by, green and flat but as we continued North, the trees became thicker and the land more undulating, until we started to see picturesque inlets, between the dark and foreboding pine forests. Small cabins and little boats moored on the banks making a brightly coloured jigsaw puzzle like scene.
As we neared Oslo the open sea appeared, with large ferries plying their trade across the Oslofjord. Due to construction work, we were required to switch to a bus for the last hour. As you would expect, the bus was of the same high standard as the train and finally deposited us outside the central station.
We had a bit of time to kill upon our arrival in Oslo before we could meet our AirBnB host and not wanting to lug our cases around an unknown city, we found ourselves in Pepe's Pizza. Pepe's is one of those American style, all you can eat, pizza and salad buffets and whilst we are not great fans of American style pizza, this was actually ok. In the interest of telling the truth, it could have been cardboard, we would have eaten it and we gorged ourselves until it was time to find the metro, head to the apartment and really start our discovery of Oslo.
It was a breeze to find a metro ticket and in not time at all we had arrived at our destination, the Ensjo metro station in the Helsfyr borough. It is a residential area, filled with 3-5 story apartment blocks, which all appear the same making it a bit tricky to find our destination. They are surrounded by green spaces and gardens, which soften the harshness of the concrete apartment blocks and make it feel a little like being in the country. We were glad to find our apartment only 200 metres from the metro station and spent half an hour sitting in the sun awaiting our AirBnB host. The beauty of it all was that this apartment at $60 AUD per night was much better than our "luxury" apartment in Göthenburg. We are sure our host will have increased the price and we did recommend to him that he should, so you can blame us.
After stowing our gear, we were keen to find a supermarket to stock up on supplies. Whilst it is tempting to just eat out, we had previously discovered how expensive that can be in the Scandi region and were keen to avoid another $50 burger experience.  Yes, we were still a bit sensitive about our Malmo budget blow out! A quick walk up the road found us the supermarket but alas no Vinmonopolet, the Norwegian version of the Swedish Systembolaget, surely you will remember them from our Swedish Travel Tales. It appears that the Norwegians also require a bit of alcohol regulation during the long winter months and so it was that we were off to explore and discover the location of the elusive wine store.
The central area of Oslo is pretty much like any other large city, modern multi story buildings with the odd neo classical one thrown in for good measure. We were keen to stretch our legs after having spent most of the day travelling. The riverside walk and street art of the hip Grünerløkka district were only a ride on the number 12 tram away. The Grünerløkka area is a former industrial area along the Akerselva river which now houses cafes, bars, artisan shops and crisis averting Vinmonopolets. Not to mention the many parks and squares which were filled with locals and tourists out enjoying the Friday evening sunshine.

Having perused the streets, parks and shops of the area we decided that perhaps we should sample one or two of the trendy looking bars before heading home for dinner, it was after all Friday night. Well that didn't last long, once we discovered that two small glasses of beer cost us 120 NOK or the equivalent of $10 AUD each. So it was that we finally located the all important Vinmonopolet, only to discover that wine was horrendously expensive. What were to do? Economise and drink Vodka, of course.
Visiting the Vikings
Let's face it everyone is a little bit intrigued if not enamoured with the Vikings. This mysterious and reportedly unruly group of individuals left a huge mark on the culture and civilisations of Europe and as far away as Canada. We have previously found singular focus museums, a hit or miss affair, and we were not really sure what we were going to be presented with this time but it has to be said it far exceeded our expectations. The Viking Ship Museum is a must do for any amatuer history buff or indeed any visitor to Oslo.  We enjoyed the scenic bus trip through the city to Bygdøy, which also takes you past the royal farm along the journey.
When most of us think Vikings, we think raping and pillaging but there was a whole lot more to it than that.  They were in fact a sophisticated, advanced society who travelled widely and revered both female and male leaders of their society with elaborate burial rites. Which included the habit of burying notable individuals in an entire ship, three of these have been located nearby Oslo and thanks to the geology of the area, they are preserved in fantastic condition. The ships, along with numerous artefacts have been excavated, preserved and displayed in a beautifully designed building.  It would be worth visiting just to see the building and the rose garden out the front.
As soon as we entered, we were confronted by the Oseberg ship which is awe inspiring and the best preserved of the 3 ships in the museum. Dark, gleaming oak planks formed up into the well recognised shape, ornately carved and looking for all the world as though it was ready to sail. Apparently 90% is the original and one can't help but be amazed at the skill of the builders.
Ian, who has sailed extensively found it difficult to comprehend the courage of these men and women in tackling the open seas in what is basically a large open boat with low sides, 16 oar holes per side and a single mast for a large square sail. No below decks here, no protection from the cold, icy, winds. Everyone sat out in the open and either rowed or hung on for dear life. And these sailors crossed the Atlantic Ocean as well as many other extraordinary feats, not once but many times.
There are thousands of artefacts,  from weapons to household items but most enthralling of all, was The Vikings Alive a 15 minute film projected onto the walls and arched ceiling of the fourth nave of the building, which held the much rougher remains of the Tune ship. The film conveyed the life and times of these ancient navigators eloquently and its sincerity left us feeling quite emotional and connected to these incredible people.
Discovering Oslo City
(and a museum to forget)
The entry price to the Viking Museum also gains you entry into the Oslo Historical Museum, so we grabbed the return bus to the city, alighting near the Nobel Peace Centre and planning to walk to the Museum. As is our way we were distracted by the waterside, it's many gardens, statues and food trucks.  If these statues are anything to go by the Norwegians must have an enormous respect for their womenfolk.  Eventually we decided we must start to meander our way to the museum and got no further than across the road to the Rådhus, Oslo City Hall. It is not an all together visually pleasing building, in fact it is a rather strange building.  It seemed to us to be a 1950s attempt at creating an art deco building; well what a surprise when we found out it had been commenced in 1931, but was only inaugurated in 1950. It is a brutal building which seems to jar with others in the precinct. It is however located within a delightful garden, which had flower beds in full bloom whilst we were there and is home to an exquisite Vigeland fountain. Remember that name, you and we were to see quite a lot more of this gentleman's work.
Finally we made our way through the city streets, without to many more distractions; we even managed to bypass the palace and it's magnificent gardens to get to the Historical Museum, only to be met by an officious door woman, who had decided that Cath's handbag was to be quarantined, which Cath politely declined much to the woman's surprise. Lo and behold we got inside and there were a number of women, with HANDBAGS!  The Historical Museum, even without the door woman, was a disappointment. Many of the displays looked as though they may have been put together by primary school children and we left before even attempting the second or third floor.
Discovering Multi-cultural Oslo
It was quite late in the afternoon by the time we exited the museum and found our way to a tram but there was one more stop to be had before we could escape the cold evening air with a warming Vodka or two.
Cath, ever the researcher had found a multi cultural food market and as is her way, dragged Ian along too. Grønland is home to many cultures that have settled in Oslo over generations and the food market and restaurants near the metro station are reflective of those Middle Eastern, African and Asian cultures. Do not listen for one moment to those who say this part of this city is not worth exploring, they know nothing! We meandered through the streets and market for a bit, taking more photos of interesting but admittedly strange statues before deciding that a Shwarma was in order to assuage the hunger built up by walking nearly 10km for the day.  For about $10AUD, we had a meat and salad dish to die for and were away home to get of the cold and rest our weary feet. The details of our preferred Shwarma shop can be found in our Oslo Norway Travel Guide.
Sunday with statues in Vigeland Park
Oh dear, what a couple of lazy logs we were on Sunday. If you have been following our Travel Tales for some time, you may have noticed our Hobbitish tendencies.  We often choose to arise late, enjoy a first breakfast of yoghurt and muesli. Followed up with second breakfast;  bacon, eggs, toast and other assorted breakfast delights, always accompanied by at least two cups of tea.  There will of course, always be a cup of coffee consumed before leaving the house or shortly thereafter in extreme circumstances. In our defence this breakfast ritual has saved us from purchasing lunch on many an occasion.
Which is how this Sunday morning started and once sufficiently fortified, we caught the metro into the city centre and then the trusty No12 tram to the Vigeland Sculpture Park, which is located in Frogner Park. The park is Oslo's largest and as well as the sculpture park, there is a lake, museum, cafe and acres of space for outdoor recreation. It is also home to Norway's biggest rose garden, with hundreds of colours in full bloom during the summer months.
The story of Vigeland and his work is remarkable and the more than 200 statues are quite simply marvellous. It is an incredible testament to the work of one man! It is the largest collection of sculptures in one place, made by one man. The installations include the over 200 human figures, the Monolith, the Wheel of Life and the Fountain.   The works depict all stages of the human life cycle and range from classically beautiful to the downright bizarre, the most famous of which is possible the "man attacked by babies".  All the pieces were donated to the city of Oslo by the artist, Gustav Vigeland, who incidentally also designed the Nobel Peace Prize medal.  On a sunny Sunday, there were people of all ages having a great time in the outdoors.  Had we not had such a lavish breakfast we may have been tempted to join them in a picnic by the lake or one of the many rose gardens.
Oslo is quite rightly famous for it's parks, gardens and public art works but this is by far the best and most enjoyable way to spend a day in the city, in our opinion.  In fact it would be wonderful to be able to visit on a day when there were not so many people enjoying the sunshine, parklands and statues.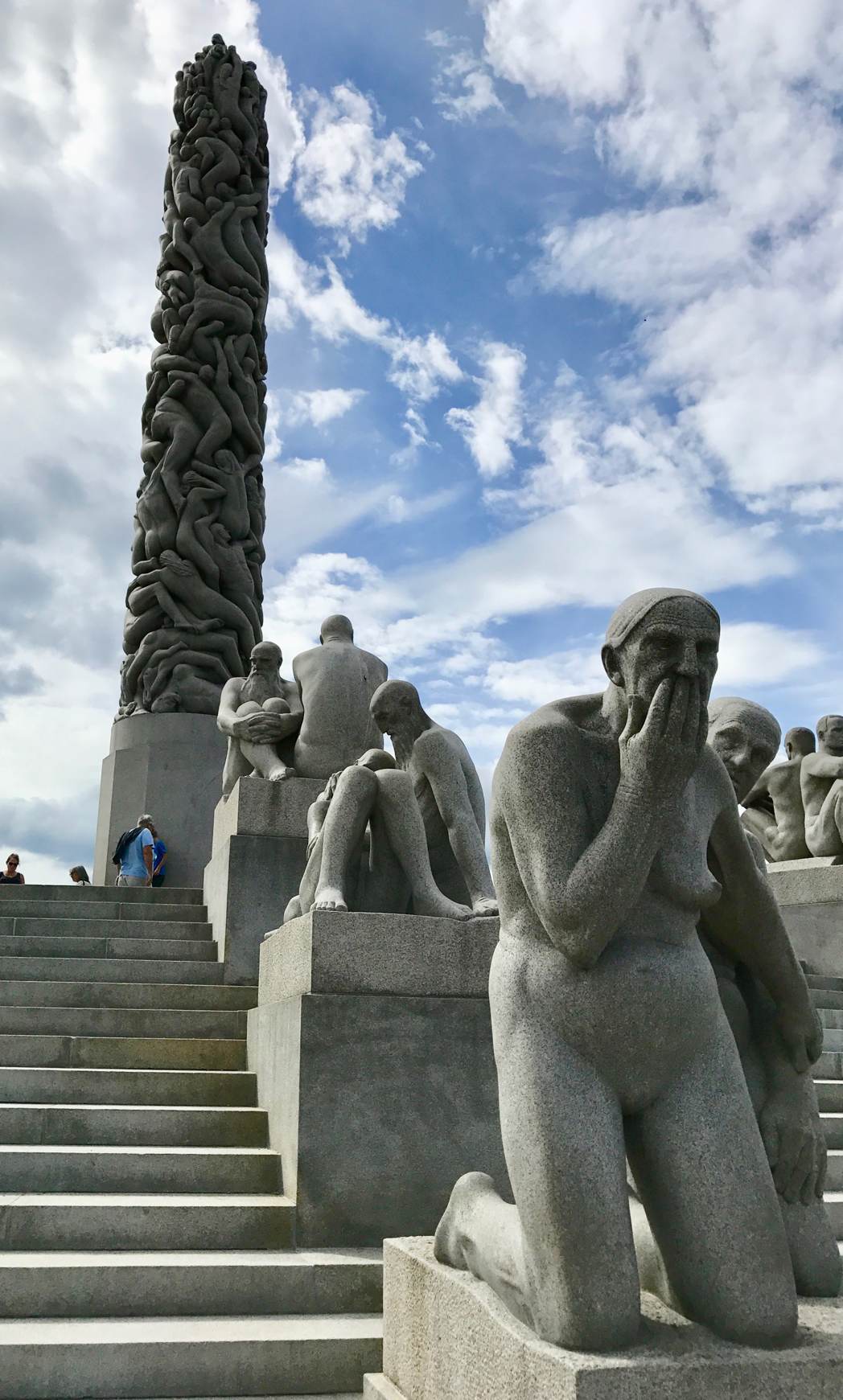 We completed our discovery of Oslo by catching the tram into the city central stop and meandering our way through the city square where we were obliged to stop and enjoy the delights of one of Oslo's many food trucks. Oslo and many of the Scandinavian countries have taken to the Food Truck phenomena with alacrity, even an App Streetkak, has been developed so you can always find when and where your favourite Food Truck will be open.  We enjoyed a sausage with the lot from the Sausage Factory and made our way to the foreshore where we strolled or more correctly climbed upon the Opera House.
The Opera House, an ultra modern addition to the cityscape is situated at the head of the Oslo Fjord and the view over the water and city scape is superb. The rooftop of the Opera is completely open to the public to clamber around but be warned it is pretty slippery on the white tiled surface and for some reason, there are sections that are just slightly raised, leaving us wondering which of us would end up in the water. If the sun is out, as it was briefly during our sojourn, you may see the Holmenkollen ski jump glittering in the hills that surround the city. It is appears like a giant silver sculpture and it took us a little while to figure out exactly what it was, not being native to the snow skiing culture.
Before long the wind had whipped up and brought with it showers of rain, just leaving us enough time to get home before the storm really settled in.
We had thoroughly enjoyed our time in Oslo but it was time to find a new city to discover and we were headed for the Venice of the North, Stockholm.